Step 5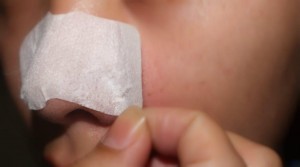 The moment of truth! Now this is the painful part. To lessen the pain, it's a good idea to push down on your skin while you're peeling the pore strip in the opposite direction.
If this is how much you got from yours then, congratulations! It worked!
Step 6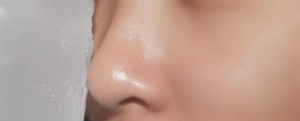 Take a piece of ice and move it around the area where the pore strip came off. Follow it up with a toner and you're ready to face the day blackhead free!
The After Care
It may look like tedious work but you only have to do this once a week. Make sure that you exfoliate once a week too if your skin is oily!
You can go about doing your usual skin care regimen after this routine, like applying your sunblock or moisturizer. The last step (icing and toning) is really important. As you can see in the picture, your pores are still open and you wouldn't want to go out of the house, exposing open pores to whatever pollution there is outdoors. Do not skip this step!
Adding this routine to your skin care regimen will really help make sure skin look flawless, smooth and clean. Try it yourself and see how it works for you! Also, do check out our review of Korean pore pack brands (Innisfree, Baviphat & Holika Holika) and see which gets our thumbs up!