Marlon Wayans – Requiem For A Dream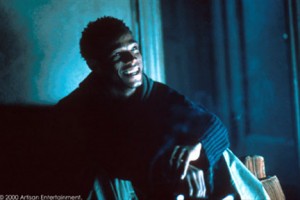 Even before the lame Scary Movie sequel and the utterly execrable Little Man, the younger brother of Damon and Shawn was already synonymous with moronic comedies (Senseless, The 6th Man). But seemingly out of nowhere, he conjured up a mesmerising performance as a hopeless and helpless junkie who even with the certainty of a long jail term, gets the easier end of the bargain in Darren Aronofsky's terrifying Requiem For A Dream.
Chris Klein – Election
Klein was perfectly serviceable as Oz in American Pie and its subsequent sequels. But as his performances in Say It Isn't So, American Dreamz and Rollerball attested to, not to mention that excruciatingly awkward audition piece for Mamma Mia that did the rounds a few years ago, taking on the role of a dumb jock probably wasn't much of a stretch. He might have also played a footballer in Alexander Payne's hugely under-rated black comedy, Election. But his first major big-screen role turned out to be his most charming as he bravely goes up against Reese Witherspoon's ruthlessly ambitious Tracy Flick with a sweetness and sincerity that is severely lacking in his later work.
Jennifer Lopez – Out Of Sight
It's difficult to remember now but there was a point when Jennifer Lopez was considered a credible actress. Indeed, before the diva demands, watered-down R&B and lame rom-coms became her forte, her potential had been spotted by directors as iconic as Francis Ford Coppola, Oliver Stone and Steven Soderbergh, the latter of whom she teamed up with for by far her greatest film, Out Of Sight. Oozing sex appeal, charisma and an on-screen chemistry with George Clooney that has rarely been bettered by anyone since, her performance of U.S. Marshal Karen Sisco should have kick-started a glittering filmography. Instead, she wasted her talent in guff like The Wedding Planner, Angel Eyes and of course, Gigli.
Jonah Hill – Moneyball
Famed for playing a string of characters that were perhaps written as lovable slackers but were performed with the charm of a dead slug, Jonah Hill seemed hellbent on stinking up every Judd Apatow-esque comedy produced. And yet as Brad Pitt's assistant manager in the baseball film that isn't about baseball, Hill proved he didn't always have to be a repulsive big-screen presence with a refreshingly measured turn that also earned him a hugely unexpected Oscar nomination. Watch moneyball here.
Sharon Stone – Casino
Her role in Basic Instinct may undoubtedly be iconic, although that's more because of the infamous leg-crossing scene than any true acting ability. But following a string of awful erotic thrillers and ham-fisted action movies, many were expecting Sharon Stone to embarrass herself when in such esteemed company as Robert De Niro and Joe Pesci in Scorsese's under-rated Casino. Instead, as gangster wife Ginger Rothstein, she turned out to be the best thing in it.
P.S. Let us know if you agree with our list and also check out our top 10 best villains of all time!